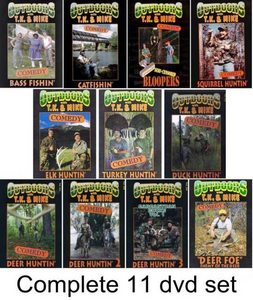 This is a complete set of 11 comedy DVD's 

in their original unopened packages.
TK & Mike is a hilariously funny, redneck comedy hunting and fishing team.
Each DVD has a run time of 35-55 minutes.
The set includes:
1.Deer Huntin'           5.Duck Huntin'     9.Catfishin'
2.Deer Huntin' 2        6.Bass Fishin'    10.Squirrel Huntin'          
3.Deer Huntin' 3        7.Elk Huntin'       11.Deer Foe
4.Turkey Huntin'        8.Bloopers        
This is their entire set.
It will give hours of  redneck entertainment for your hunting club, lodge or deer camp.
Perfect gift for the hunter/outdoorsman in your family!!